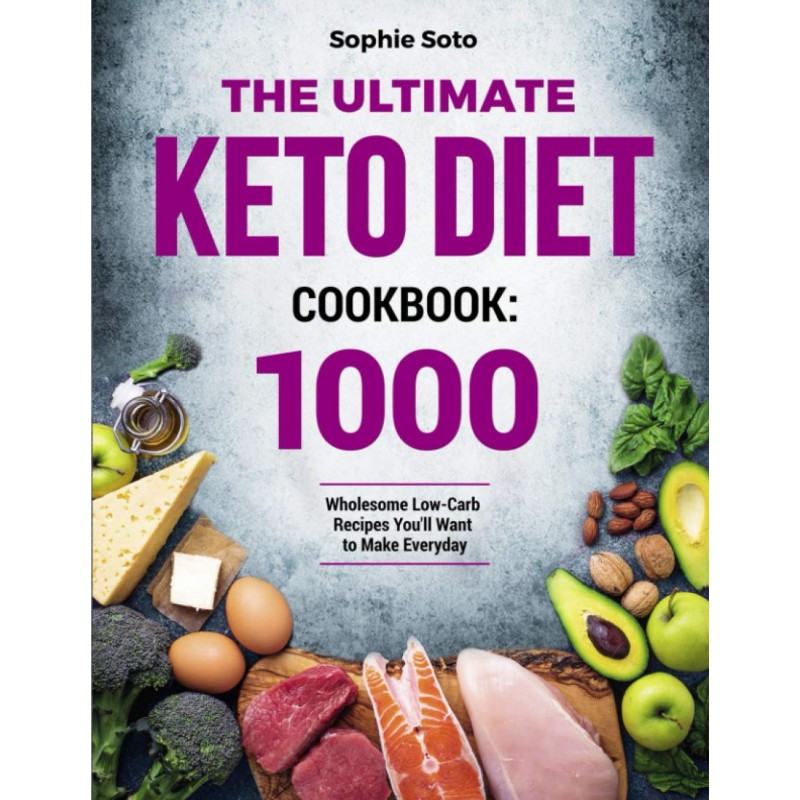 The Ultimate Keto Diet Cookbook
Author: Sophie Soto
ISBN:

9798677238178

Publisher:

Independently published

Pages:

183

Year Published:

2020
The Ultimate Keto Diet Cookbook: 1000 Wholesome Low-Carb Recipes You'll Want to Make Everyday
The essence of the Ketogenic diet (keto diet) involves the complete exclusion of carbohydrates from the diet. Such a diet is effective for weight loss. It happens because of the complete absence of carbohydrates, which helps the body actively burn the fat.
The main purpose of the Ketogenic diet is to achieve a state of ketosis. In this state, fats are extracted from the body's reserves, processed into free fatty acids, and then into keto bodies. The keto bodies are used by the body instead of carbohydrates. In order for the metabolism to reach the state of ketosis, the level of glucose in the blood must be reduced to a minimum and remain in this state for at least 2 days. On average, to get the significant results you should follow a keto diet for about 3 months.
In addition to reducing weight, a keto diet will also help increase mental health, reduce the risk of cardiovascular disease, lower blood glucose levels, and also help improve appetite control.
A variety of food is very important when following any diet. Keto recipes should be carefully chosen according to individual needs or doctor prescriptions. Therefore, a well-chosen keto cookbook will not only simplify the preparation of the daily meal plan but will make your dishes tasty and versatile. This Keto recipe book includes the most delicious keto desserts, breakfast meals, side dishes, meat, and poultry dishes. A huge number of recipes and easy book navigation make the book the best helper in your kitchen and also will help you find your favorite ketogenic recipe with ease. There are recipes for beginners as for pro in the diet. Just imagine this Ketogenic cookbook includes 1000 various recipes of 2020. This is a find in cooking. Undoubtedly this book won't make you bored. Here you will find recipes with only keto-friendly ingredients, keto advice, and measurement conversion tables.
In addition to all the benefits of the cookbook, you will also receive a free 100 day meal plan. That sounds good, doesn't it? What are you waiting for, hurry up to order your copy of the low carb recipe book and start your keto way from now!