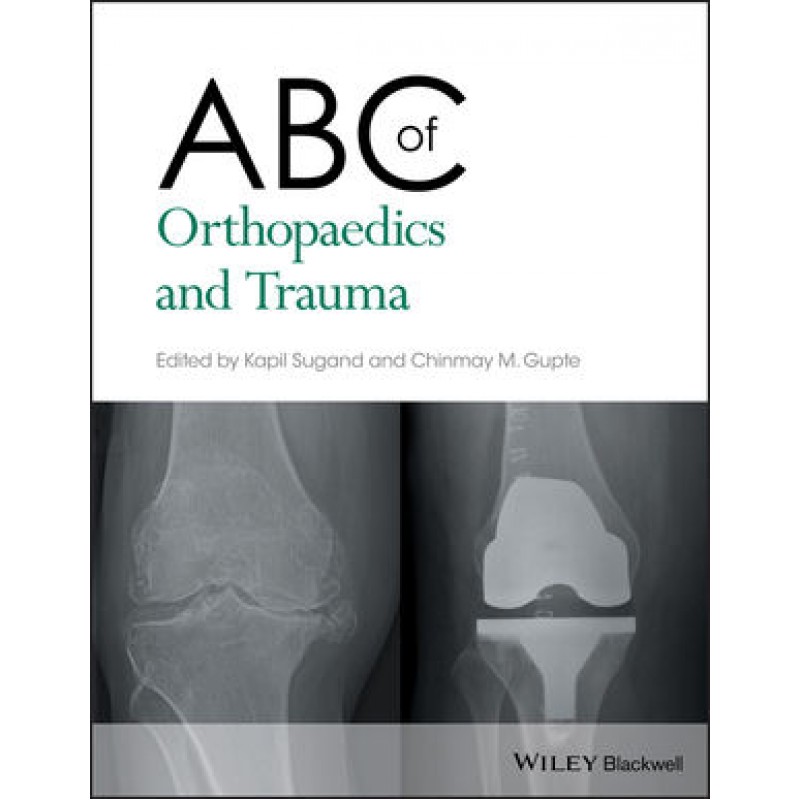 ABC of Orthopaedics and Trauma
Author: Sugand
ISBN:

9781118561225

Publisher:

Wiley

Pages:

232

Year Published:

2018
Fully illustrated throughout with a wide range of scans, images and line drawings, ABC of Orthopaedics and Trauma provides practical guidance on the diagnosis, treatment and management of orthopaedic conditions, and assists with the initial assessment based on common presentations. Written by a team of renowned expert orthopaedic surgeons and rheumatologists, it includes coverage of the current national guidelines from NICE and professional bodies.
Twenty-four chapters cover all the major areas of this vast speciality using a digestible and reader-friendly approach, including sections on fractures, joint replacements, rheumatological disorders, osteoarthritis, emergencies, and post-operative care. Introduction to specialist topics like metabolic bone disease, peripheral nerve injury, paediatric orthopaedics and tumours are also featured. Topics consist of history and examination, investigation and initial management of common orthopaedic trauma and elective presentations.
In addition, this full-colour, user-friendly reference guide offers readers a look at the day-to-day clinical practice of a speciality that will affect at least half of the global population at some point, covering further chapters on epidemiology, biomechanics, common procedures, future developments and education.
ABC of Orthopaedics and Trauma
is an excellent resource for all healthcare professionals caring for patients with musculoskeletal and orthopaedic related disorders. This will be a valuable reference to orthopaedic trainees, sports physicians, physiotherapists, nurses, occupational therapists, clinical researchers and student doctors.
Table of contents
Foreword, ix
Contributors, xi
Preface, xiii
Abbreviations, xv
1 General Overview, 1
Kapil Sugand, Anita Khurwal, and Chinmay M. Gupte
2 Epidemiology of Musculoskeletal Disease, 7
David Metcalfe
3 Orthopaedic Investigations, 11
Adil Ajuied, Christian Smith, and Cynthia Gupte
4 Orthopaedic Trauma, 23
Aamer Nisar, Chinmay M. Gupte, and Rajarshi Bhattacharya
5 Management of Adult Fractures, 29
Aamer Nisar, Chinmay M. Gupte, and Rajarshi Bhattacharya
6 Shoulder and Elbow, 37
Andrew Sankey and Peter Reilly
7 Hand and Wrist, 47
Issaq Ahmed and Philippa Rust
8 Pelvis and Acetabulum, 59
Hani B Abdul‐Jabar and Jasvinder Daurka
9 The Hip, 67
Simond Jagernauth and Joshua KL Lee
10 The Knee, 75
Nawfal Al‐Hadithy and Chinmay M. Gupte
11 Foot and Ankle, 85
Nadeem Mushtaq, Ali Abbasian, Kapil Sugand, and Chinmay M. Gupte
12 Spine, 95
Syed Aftab and Robert Lee
13 Paediatric Orthopaedics, 105
Bassel El‐Osta, Alex Shearman, and Neel Mohan
14 Orthopaedic Emergencies, 117
14.1 Emergency: Dislocated Hip, 117
Simond Jagernauth and Joshua KL Lee
14.2 Emergency: Locked Knee and Dislocation, 119
Sohail Yousaf, Mubeen Nazar, and Chinmay M. Gupte
14.3 Emergency: Acute Shoulder Dislocation, 123
Andrew Sankey and Peter Reilly
14.4 Emergency: Supracondylar Fractures of Distal Humerus in Children, 125
Alex Shearman, Bassel El‐Osta, and Neel Mohan
14.5 Emergency: Septic Arthritis, 128
James Donaldson and Jonathan Miles
14.6 Compartment Syndrome, 131
Ahsan Sheeraz
14.7 Emergency: Cauda Equina Syndrome, 133
Syed Aftab and Robert Lee
15 Orthopaedic Procedures, 135
Simon Mordecai and Jacqueline Waterman
16 Prevention and Postoperative Care, 141
Ahsan Sheeraz
17 Osteoarthritis, 149
Alexander L. Dodds and Dinesh Nathwani
18 Inflammatory Diseases, 155
Sanam Kia and Sonya Abraham
19 Bone and Joint Infections, 163
James Donaldson and Jonathan Miles
20 Metabolic Bone Diseases, 173
Michael Fertleman, Shuli Levy, and Georgina Meredith
21 Bone and Soft Tissue Tumours, 181
Rej Bhumbra
22 Peripheral Nerve Injury (PNI), 187
Rishi Dhir, Kapil Sugand, and Tom Quick
23 Orthopaedic Biomechanics, 195
Hussein Taki and Bernard van Duren
24 Tools of the Trade, 199
Mike Rafferty
Index, 207