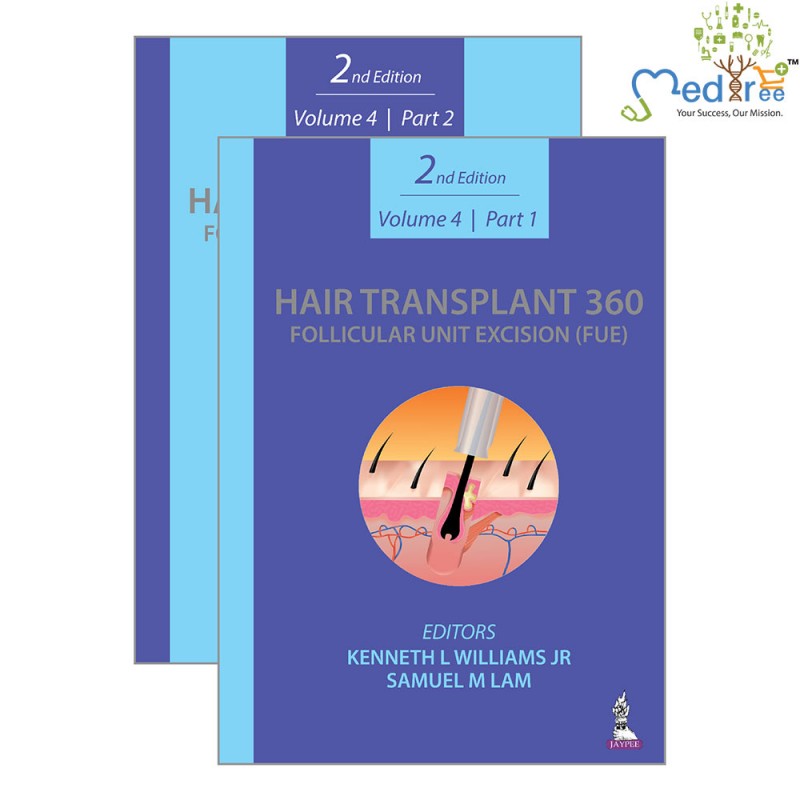 Hair Transplant 360: Follicular Unit Excision (FUE): Volume 4, Two Part Set
ISBN:

9789354652011

Publisher:

JP Medical Publishers

Pages:

740

Dimensions:

22x28

Year Published:

2022
The second edition of Hair Transplant 360: Volume 4 – Follicular Unit Extraction (FUE) is an illustrated guide to this minimally invasive procedure, involving the grafting of hair follicles that are genetically resistant to balding, onto a bald scalp. This book is edited by Samuel M Lam, from the Lam Institute for Hair Restoration, Texas, and Kenneth L Williams Jr from Orange County Hair Restoration, California.
With the advent of hybrid-punch technology for follicular unit excision (FUE) in 2017, the first edition of this book became outdated and required a major revision.
The new edition more than doubles the scope of the prior edition from 25 chapters in a single book, to 60 chapters in two hardcover volumes.
The first volume updates and expands on the previous edition's sections and is divided into the following: Basics, Operative Fundamentals, Practice Considerations, and Devices.
The second volume is entirely new and is sectioned into Concepts, Techniques, Adjunctive Measures, Regional and Ethnic, Complications and Repair, and How I Do It and Special Topics.
This unique, comprehensive text provides practical, up to date knowledge on FUE and incorporates over 100 videos that cover a range of subjects showcasing operative technique, interviews, video lectures and much more, all easily accessed via a QR code embedded in each chapter.
In addition, full digital access is available on a mobile responsive web-browser.

Contents
ParT 1
SECTION I: FUE FUNDAMENTALS 360
Section Editor: Sharon A Keene
A. BASICS
1. History of FUE: A Retrospective 7
James A Harris, Aditya K Gupta
2. Ethics in Hair Restoration 15
Ricardo Mejia
3. FUE Terminology: Characterizing Donor Area, Grafts, Techniques, and Devices 33
Parsa Mohebi
4. Skin Properties and Anatomy 63
Michael Beehner
5. Punch Characteristics 71
Kenneth L Williams Jr
6. Ergonomics in FUE Donor Harvesting 95
Kenneth L Williams Jr, Janet Nelson Arienzo
7. FUE Graft Quality 121
Jean Devroye
8. Graft Classification 131
Robert H True
9. The Physics of FUE 145
Georgios Zontos
B. OPERATIVE FUNDAMENTALS
10. Clinical Decision-making: When to Choose FUE Versus Linear-Strip Harvesting 163
Sharon A Keene
11. FUE Donor Evaluation and Surgical Planning 177
Sharon A Keene, Scott A Boden, Kenneth L Williams Jr
12. Surgical Setup 203
Emina Vance
13 Surgical Flow 213
Bessam Farjo, Nilofer Farjo
xxx contents
14. Anesthesia Principles and Techniques for FUE 233
Samuel M Lam
15. FUE Donor-Area Management 283
James A Harris
16. In Vivo Graft Splitting 291
Kenneth L Williams Jr
17. Graft-Placement Principles 299
Tina Lardner, Emina Vance
C. PRACTICE CONSIDERATIONS
18. How to Start a Practice in FUE and Marketing Fundamentals 311
Kenneth L Williams Jr, Michael Ramsey
19. Transitioning Your Practice to Include Both Linear-Strip Excision and FUE Donor Harvesting 345
Sharon A Keene
SECTION II: FUE INSTRUMENTATION & DEVICES
Section Editor: David Josephitis
20. Manual FUE 355
Emorane C Lupanzula
21. FUE with a Blunt Punch 371
James A Harris
22. FUE with a Sharp Punch 379
Scott A Boden, Kenneth L Williams Jr
23. Motorized FUE with Suction Assistance 433
Michael Vories
24. Automated FUE 447
James A Harris
25. Motorized FUE with Hybrid Punch 461
Jean Devroye
26. Motorized Multiphasic FUE Device 479
L Roberto Trivellini
Index xlvii

Author information

Samuel M Lam MD FACS FISHRS
Lam Institute for Hair Restoration, Plano, Texas, USA

Kenneth L Williams Jr DO FISHRS
Orange County Hair Restoration, Irvine, California, USA